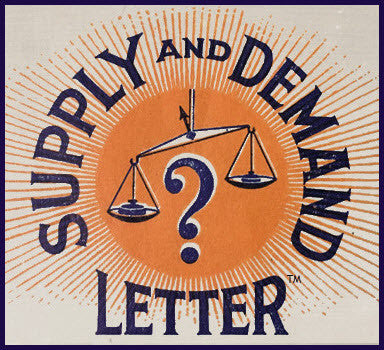 Supply and Demand Letter Subscription
We have shifted the Supply and Demand Letter to a new website!
Please follow this link to purchase our newsletter after reading more about it below.  Thanks for your interest.
Nearly 100 years ago, W.D. Gann wrote a weekly service called the Supply and Demand Letter.  
We think so highly of the content of our new publication, it is to be branded the Supply and Demand Letter as well.
Our new weekly newsletter service is designed to keep you up to date with opportunities in the marketplace and assist you in learning how to use Gann's Mechanical System to achieve your trading goals.  
The Supply and Demand Letter is published weekly-usually Friday evening (PST-US).  
 We will have a minimum of 48-50 issues per year, barring holidays or circumstances beyond our control.  That's 49 weekly educational lessons from the source-49 nudges to improve your trading..
The Supply and Demand Letter is a worthy read for both new traders and seasoned professionals looking for an edge.  It is written in real time each week with current chart examples from markets traded by us - including the E mini, Crude Oil, Silver, Gold, Soybeans, and Bonds.  Market action will determine which markets are covered from week to week. 
The Supply and Demand Letter discusses not only the markets, but offers some commentary on concepts that effect our mindset every day.  It is written by a successful full-time trader who has been there and done that.  Topics such as the difficulty of trading a small account, money management, and risk mitigation when you are dealing with large accounts are within the newsletter.
The weekly newsletter's size will vary along with the markets covered.  Most issues come in at around 12-15 pages of manageable, comprehensive content, with lots of charts to aid in comprehension. 
The newsletters intent is to accelerate the learning of the powerful, simple Mechanical Method Gann used time and time again in the market.  
Whilst the author is a successful forecaster as well (and we build on these concepts - often pointing to potentially tradable turns), if you are looking for the holy grail to the next top or bottom, this may not be for you.  If you would like to trade profitably on a weekly basis, with a very high win to loss ratio, you can't afford not to have this on your desk each week.
A mini course is provided to get you started or caught up, and shortly, all back issues will be available to add to your library.
You can learn more about the author by clicking here.
Terms and Conditions  If you don't read the terms and conditions-you must at least know this.  We want YOU to benefit from this information.
Do not share the Supply and Demand Letter with study or business groups, paid or unpaid, private or public internet social clubs such as Facebook, Twitter, Reddit, etc. If you are found to be sharing this material without permission-your account will be immediately rescinded and no refunds will be given for your remaining subscription-you may also be banned from future promotions and seminars.  This material is for the purchaser only.  We hope you respect this material and not share it with anyone outside your immediate family. 
Do not reprint, republish, repost, or otherwise distribute or transmit content or images presented on this site. Unauthorized use of or copying of our content, trademarks, and other proprietary material can subject you to civil or even criminal liability. Please don't violate our copyright.
---
---
More from this collection