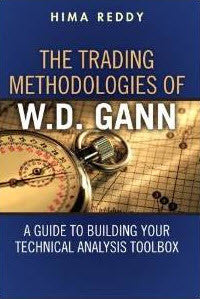 Trading Methodologies of W.D. Gann, The
Hima has attended 2 of our W.D. Gann Experience workshops, and has shared her insight at those classes.  We are proud to offer "The Trading Methodologies of W.D. Gann".

W.D. Gann's works helped to pioneer the discipline of technical analysis, and they still offer immense potential value to investors and traders.  In this book, long-time trader and expert technical analyst Hima Reddy brings these works to life for modern traders and investors. She distills Gann's tenets into crystal-clear, bite-size explanations, and illuminates them with exceptionally intuitive charts and illustrations. Drawing on extensive personal experience, Reddy explains how Gann's insights into price, pattern and time can be applied in all types of markets and market conditions.

Using this book, any experienced trader can discover the value of Gann's approach, and start utilizing it in his or her own trades. Then, with Reddy's discussion as a foundation, traders and investors can delve even more deeply into all of Gann's works, identifying even greater opportunities for profit.
---
---
More from this collection